Cockapoo Puppy Pricing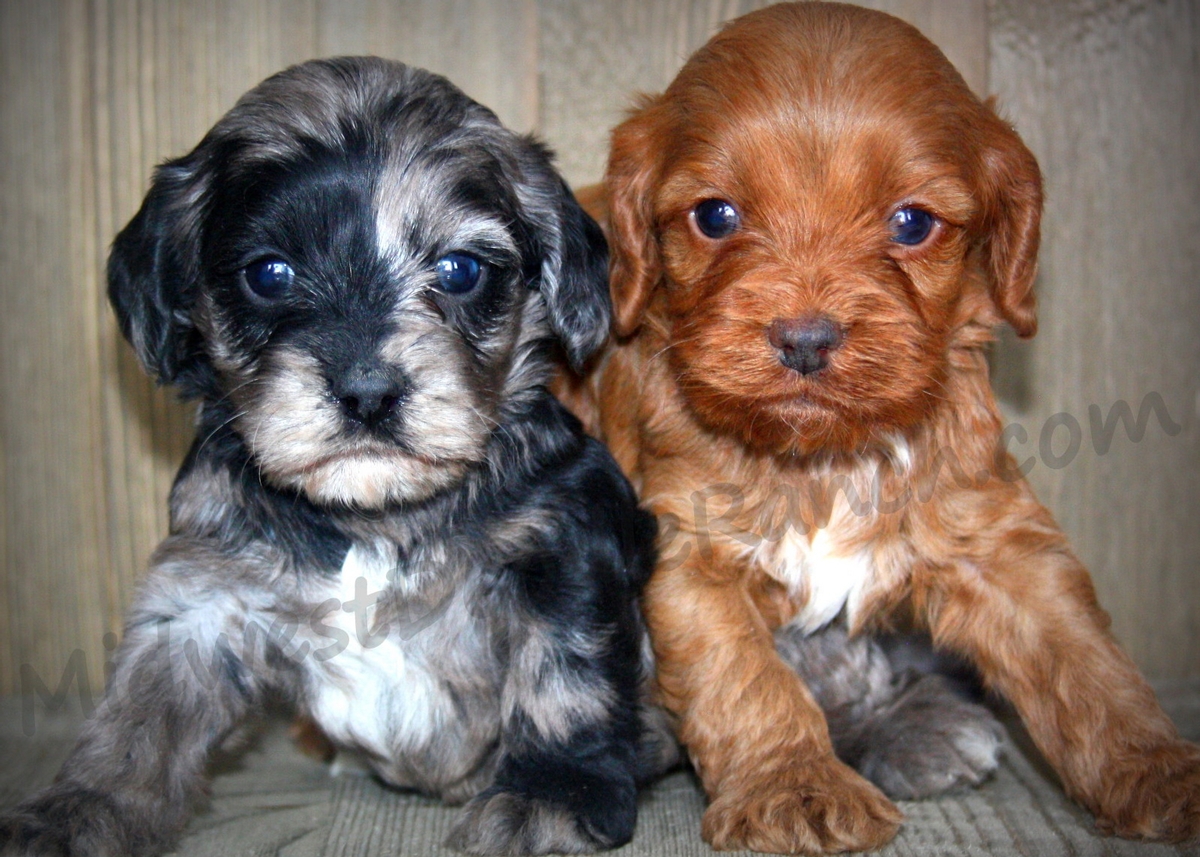 We are currently accepting deposits on our upcoming Summer/Fall 2020 Cockapoo litters! Our next litter is expected in June 2020! We should also have a litter born later this fall. Our Cockapoo puppies are priced at $2500 (however Merle colored puppies will be priced at $2800). Deposits are $600 and go toward the total price of your puppy. You may place a deposit through PayPal on our site today. If you do not have PayPal, you can still make a deposit using your card. If you decide to leave a deposit, we will email you a confirmation and place your name on our deposit list on our site! We look forward to helping you find your Cockapoo puppy!
Make Your Cockapoo Puppy Deposit
2020 Summer/Fall Cockapoo Deposit List:
1. Richelle F. from Texas for a Cockapoo puppy
2. Bradley C. from Missouri for a Cockapoo puppy
3. Kirsten R. from South Dakota for a Cockapoo puppy
4. Krystal L. from Colorado for a Cockapoo puppy
5. Beth M. from Illinois for a Cockapoo puppy
6. Stephanie B. from California for a Cockapoo puppy
7. Emily B. from Missouri for a Cockapoo puppy
8. Erin B. from Kansas for a Cockapoo puppy
9. Shannon H. from South Dakota for a Cockapoo puppy
10.
11.
12.
How Does Our Puppy Selection Process Work?
The selection has been completed on our current litters. Those that were on our deposit list have already picked a puppy! If you are wanting a puppy from us, but wanting to wait for our next litter you may place a deposit at any time for our upcoming Cockapoo puppy litters!

When the selection process starts, you will be notified that it is your turn to select a puppy. You will have up to 12 hours (less is better for everyone) to let us know which puppy you decided to pick or pass. If you do not contact us, it will be assumed that you are passing on a puppy from the litter(s) and waiting for the next selection process to start on the next litter. Since you may have several people behind you waiting to select a pup, we ask that you be ready to choose, so that we show respect for everyone waiting in line! From the date you place your deposit, you will have up to six months to select a puppy and have it go home with you. If you have not done so in that time frame, then it will be considered that you no longer desire to purchase a pup from us and your non-refundable deposit will be forfeited. Once you have selected a puppy, then your total deposit goes only toward the puppy you have chosen. At that time, you will be asked to put down another payment of $600 (plus applicable 2.9% PayPal fee) to hold your puppy selection. This payment also goes towards the total price of your puppy.

*If you are unable to pick up your puppy when it is ready to go home (which is the day it turns 8 weeks), or are in need of us holding it for any amount of time (due to vacation, work, school, family, scheduling conflict, or etc.), it will be an additional $40 a day. This option is only available based on our availability and must be agreed upon by us in writing via email. Purchasing a puppy can be fun and exciting! We strive to make the process as stress free as possible! Please contact us if you have any other questions!
Pricing and Shipping/Delivery Details:
We accept PayPal for deposits, payments in full, and shipping fees. Upon letting us know you would like to purchase a puppy through email or phone, we will send you back to this page to pay via PayPal for the non-refundable deposit to hold your puppy which goes toward the total price of your puppy. If the puppy you want is not available when it is your time to choose, then your non-refundable deposit goes towards a puppy of your choice in the next litter. All you have to do is click the "Pay Now" button on this page, and it will take you to the secure PayPal website so you can pay... this protects us and you. After receiving your payment, your puppy's status on our website will change to "RESERVED".
At the time of selection, you will be asked to make another non-refundable payment of $600 to secure your puppy you have selected (this $600 also goes towards the total price of your puppy). If you are picking up your puppy in person you can either pay the remainder of the price via PayPal before we meet, or bring the remainder of payment in CASH. Sorry, we do not accept checks or money orders. If we are shipping the dog, payment in full and all shipping costs must be done BEFORE we make all the travel arrangements. When delivering your puppy, we like meeting people in person. So when shipping by air is necessary, then we can meet you at the Kansas City International Airport (MCI) with your puppy. It is a small fee, (usually around $100) to have your puppy fly back home with you as a carry-on under your seat. We do charge $250 for our time and gas to do an airport delivery. We will provide you with a health certificate from our vet for your puppy to travel home with. We can help walk you through any travel arrangements necessary for your pup to fly with you!
We also are willing to meet you somewhere by vehicle if we are within reasonable driving distance of each other. We are an easy drive for our customers who are from Denver, Dallas, Chicago, Indianapolis, and Minneapolis. We have some folks that will drive and meet from much farther or just catch a quick flight and return home a few hours later! If you would like to know how much it would be to have us meet you somewhere to shorten your drive each way, let us know where you would be traveling from and we will give you a price quote with delivery location. Feel free to contact us with any questions! *Shipping rates, regulations, and availability are subject to change, so please note that.